THE BEST CENOTES IN TULUM
Cenotes (pronounced 'seh-no-teys') are naturally occurring sinkholes. These Mexico cenotes have become a major attraction specific to the area in and around Tulum – a beautifully-positioned town on Mexico's Caribbean coastline on the Yucatan Peninsula, in an area also known as the Riviera Maya. This page will take a look at all of the best cenotes in Tulum to help you plan your next trip to Mexico!
Need some accommodation inspiration? Click here! And if you aren't into driving yourself around to see the cenotes, see what awesome tours Tulum has on offer!
A QUICK HISTORY OF TULUM AND THE CENOTES
Tulum's original name was Zama, meaning 'City of Dawn' in Maya. Its peak was between the 13th and 15th Centuries when its mighty walls (or 'Tulum' in the local language) were some of the last built by the Mayans. Tulum ruins are one of the best-preserved sites in Mexico today. 
Because of its location, Tulum was an important trading center for the Mayans and connecting cities. Covering off both land and sea routes, national and international. The ruins are now protected in a national park called 'Parque Nacional Tulum' and can be visited from Monday to Sunday between the hours 8 am and 5 pm.
The Riviera Maya is home to the world's largest underwater cave system – the Sistema Sac Actun – which connects roughly 226 cenotes. Often within stunning stretches of pristine jungle, cenotes in Tulum offer undisturbed tranquillity and cool clear waters in which to swim, snorkel and even scuba dive.
Some cenotes in the Riviera Maya have had discoveries of archaeological relics from the indigenous Mayan people, who used cenotes to make sacrificial offerings to their gods. As well as ancient skeletons of animals that have now become extinct.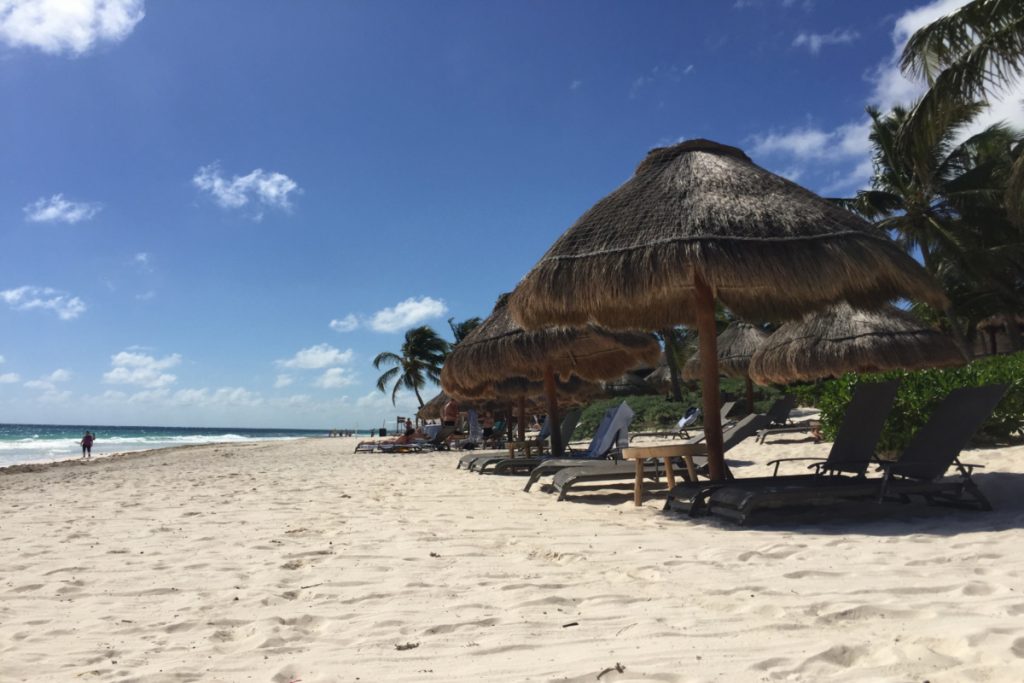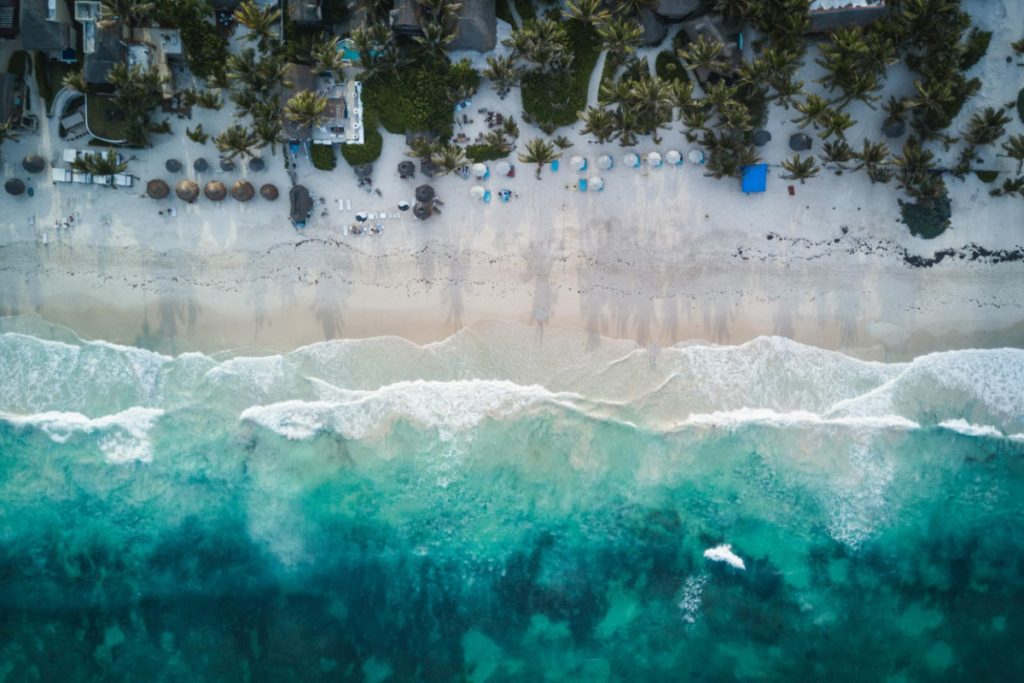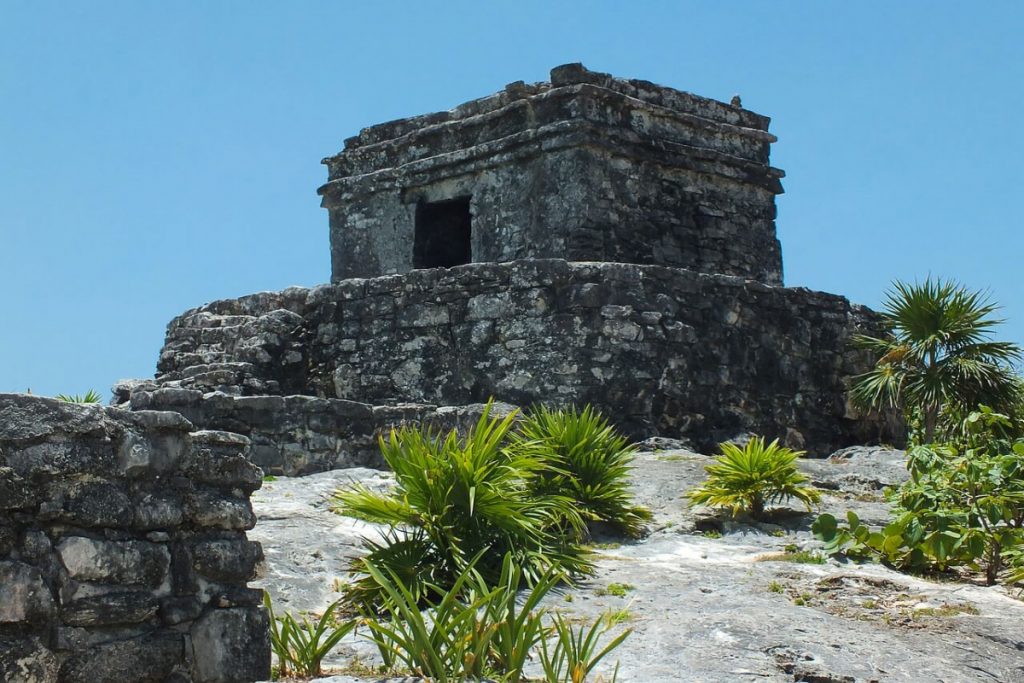 Best Tulum cenotes for swimming
Casa cenote (cenote tankah)
Casa Cenote is a large open cenote that connects to the ocean via an underground opening. The cenote is like a big natural swimming pool, surrounded by mangroves and across the road from the beach. Due to its clear waters and shallow depth, Casa Cenote is a great place for that first-time cenote divers, swimmers or snorkel.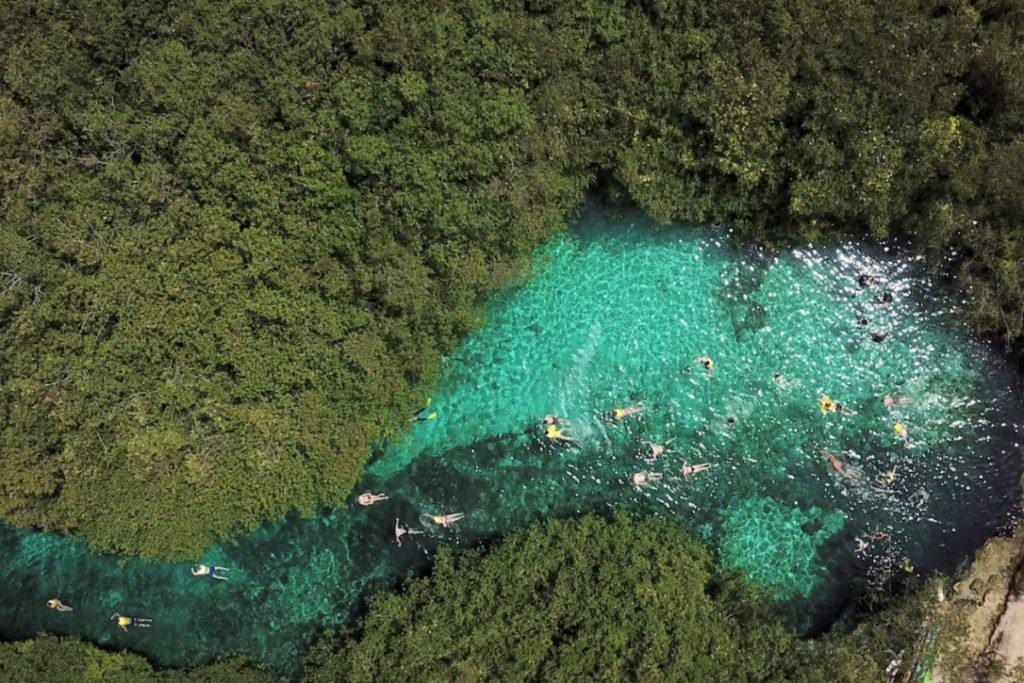 The natural, penetrating light of Cenote Caracol makes it another great Yucatan cenote for swimming. Hidden within a hollow in the limestone and reached by a narrow, twisting, wooden staircase. The unique rock formation makes this cenote a particularly impressive place to splash about in the cooling water.
Casa Tortuga is a great place for a cenote novice. This property has multiple cenotes that are all connected to the same system. Each cenote is very different from each other, from the young cave cenotes right through to the mature open cenotes. At Casa Tortuga, the admission price includes a tour, lifejacket and snorkel gear. The tour is very educational and a great introduction to cenotes.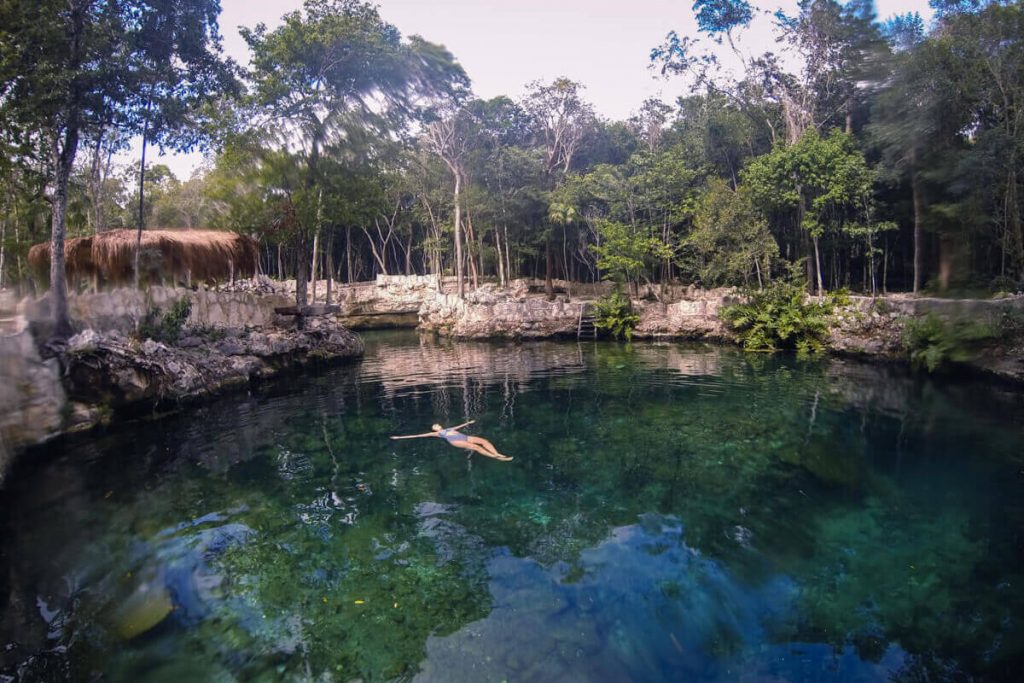 Best diving cenotes IN Tulum
Cenote Calavera is located just outside Tulum on the road to Coba. Calavera (meaning skull) got its name from the three openings on the surface which resembles two eyes and a mouth of a skull. You can see this from the water looking up. Other names for the cenote are Esqueleto and Temple of Doom which is a referral to the cave system it's connected to.
The main entrance has a ladder leading down into the water on top of a mound, which is the collapsed jungle floor. It is quite dark around the edges. The light piercing through the skull holes make excellent photos.
Cenote Calavera is great for swimming, jumping into the openings of the skull, cavern and cave diving. You can take your snorkel to see the bottom as the water is crystal clear but it gets quite dark in some areas away from the sunlit opening.
For divers, this cavern is huge and has multiple layers of halocline (where the salt water meets freshwater). There is also a natural shelf holding bone and pottery that have been discovered by divers.
 If you are looking to go diving check out Zen Diving.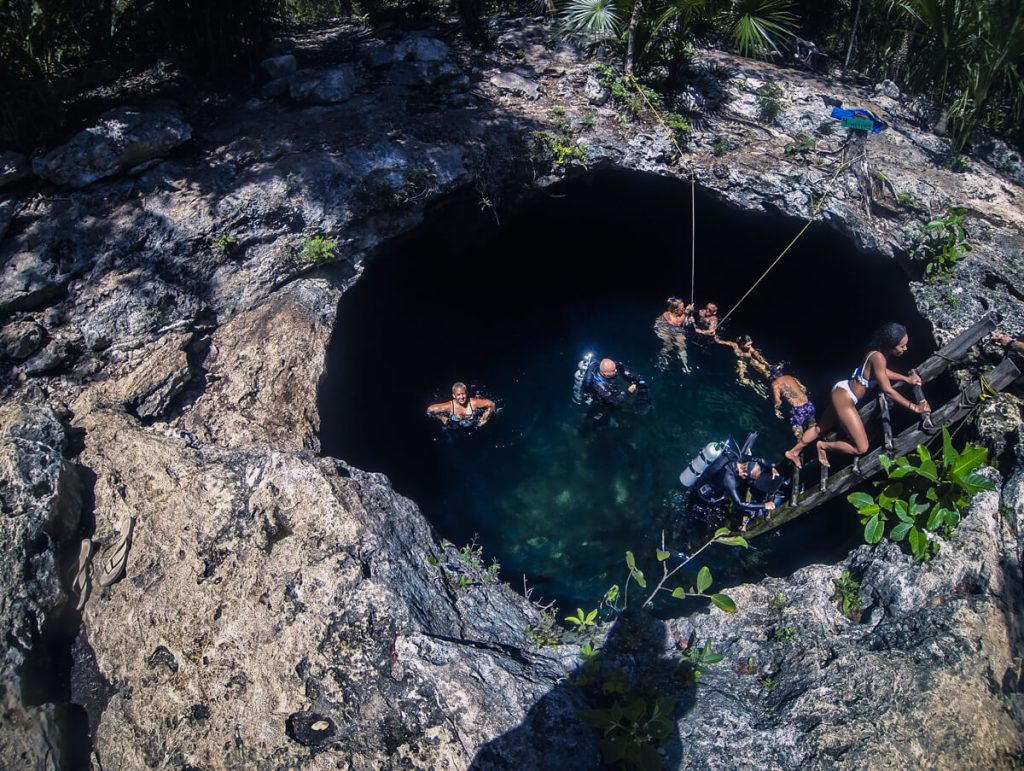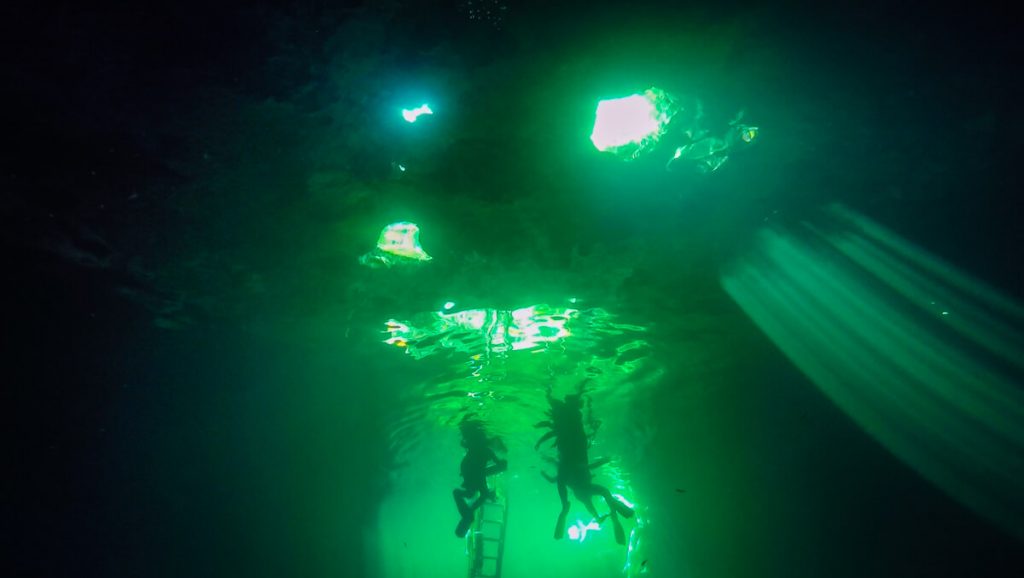 Cenote Dos Ojos – or Two Eyes Cenote – is undoubtedly one of the best cenotes in Yucatan in which to dive. It takes its name after two sinkholes 70 meters in diameter connected by a 400-meter passageway. It's also the location of the deepest Tulum cave tunnel, at a staggering 118 meters deep.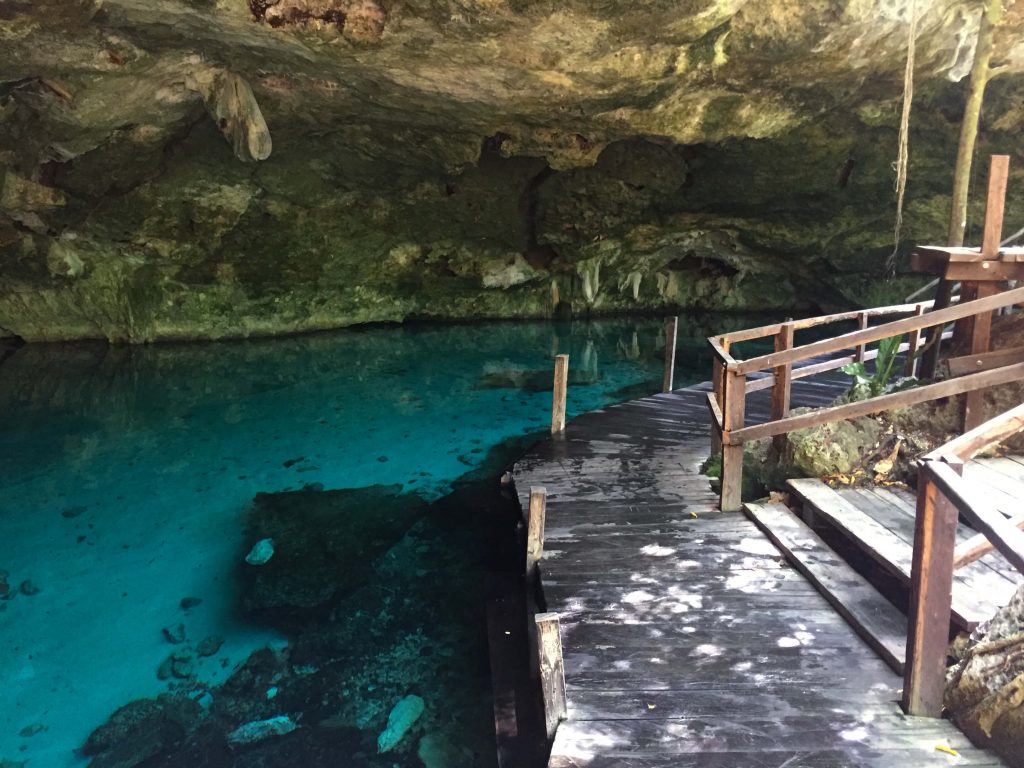 Best cenotes in Tulum for nature lovers​
cenote aktun ha (cenote car wash)
The Maya translation for Aktun Ha means 'water-filled cave'. And the story of its other name Car Wash speaks for itself, back in the day this cenote was used as a car wash for local taxi drivers. It was a great location for the drivers because each day the water was crystal clear. All of the soapy bubbles from the day prior were gone. This phenomenon prompted the first cenote cave investigations to find out exactly where the dirty water was going. This led to the discovery of not only an underwater cave but one of the world's largest underwater cave system.
Cenote Aktun Ha is located on the road the road to Coba, approx. 15 mins from Tulum. It is an open cenote which can change color depending on the season. If you bring a snorkel mask you will be able to explore what looks like a pond on the surface but when you are submerged it looks like an underwater garden with fallen trees and vegetation. You can also see the huge opening of the cave, you will be able to watch the divers and their bubbles disappear into the depths.
This cenote is known to be a great place for beginner cavern divers.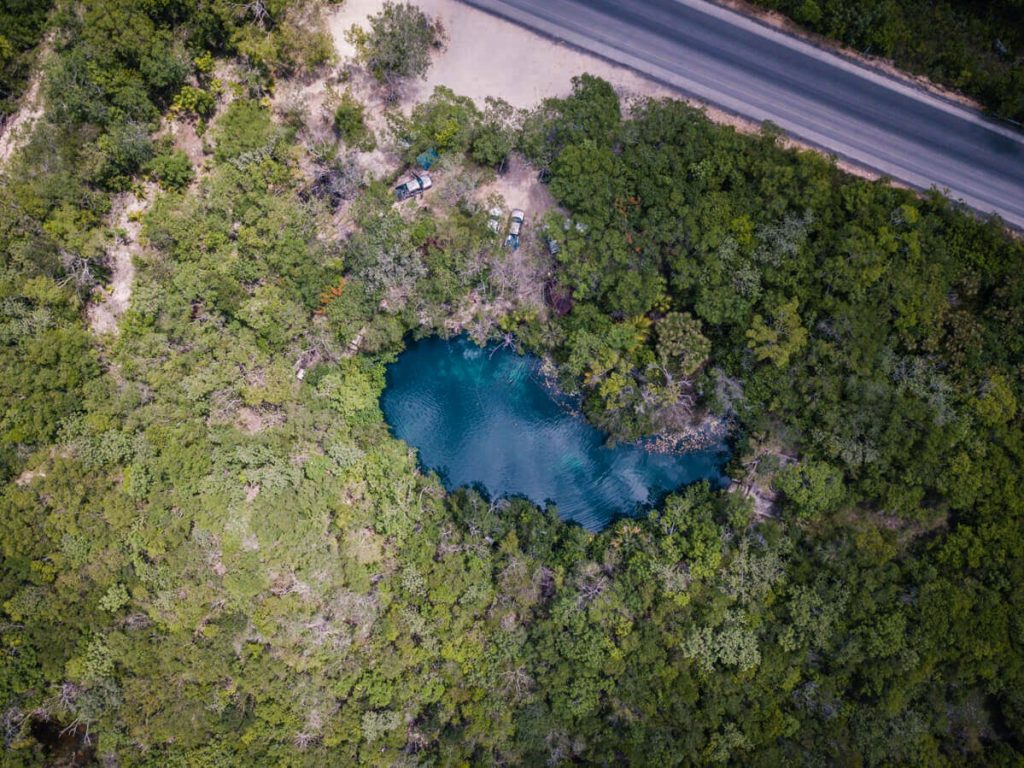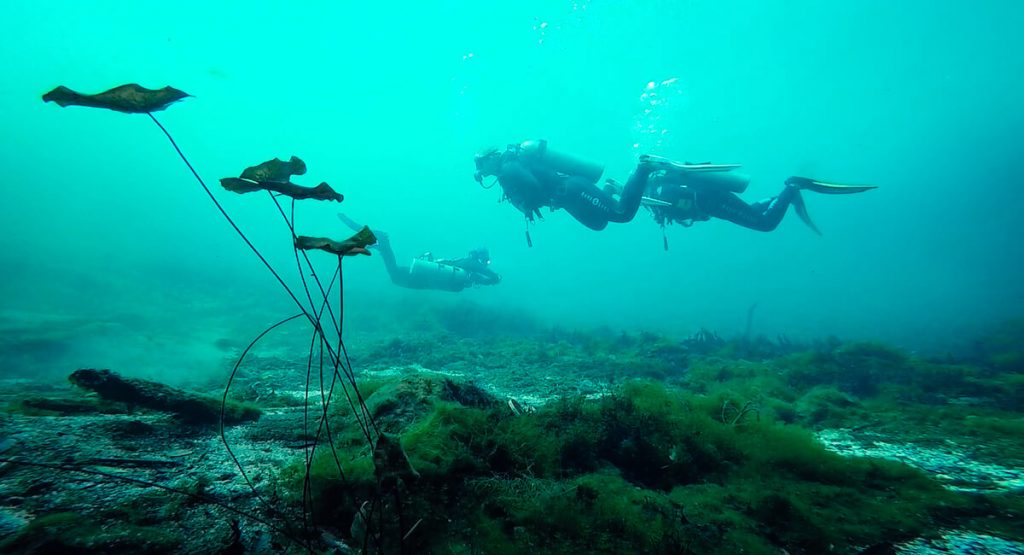 Located within an eco-park, Cenote Aktun Chen is one of the best Yucatan cenotes for its underground rock formations. The Aktun Chen cave is one of the largest and oldest caves in Mexico. It has a beautiful series of stalactites and stalagmites, brought to life by underwater lights. With a maximum depth of 3 meters, the cenote is no good for diving but perfect for snorkeling and swimming. With crystal clear waters you will be able to explore the ancient formations and underwater scenery. 
Perhaps the most popular cenote in Tulum. Gran cenote or Grand Cenote in English is the main entrance to the Sistema Sac Actun, which means White Cave System. As of 2018, the Sistema Sac Actun has been confirmed as the largest underwater cave system known to exist.

With crystal clear and turquoise water, it makes it a great cenote for both swimming and snorkeling. Snorkelers can swim inside the caves to check out the stalagmites and stalactites. Home to dozens of fish, turtles, even bats and swallows flying to and from their homes inside the limestone.
Best cenotes Tulum for relaxing
Cenote Clan-Destino is a 24-hour bar built surrounding a small cenote as the centerpiece.
This cenote bar is set on the jungle side on the Carretera Tulum Boca Paila. Located across the road from the beach. This place is boasting the best burgers and ribs in Tulum with a very relaxed vibe.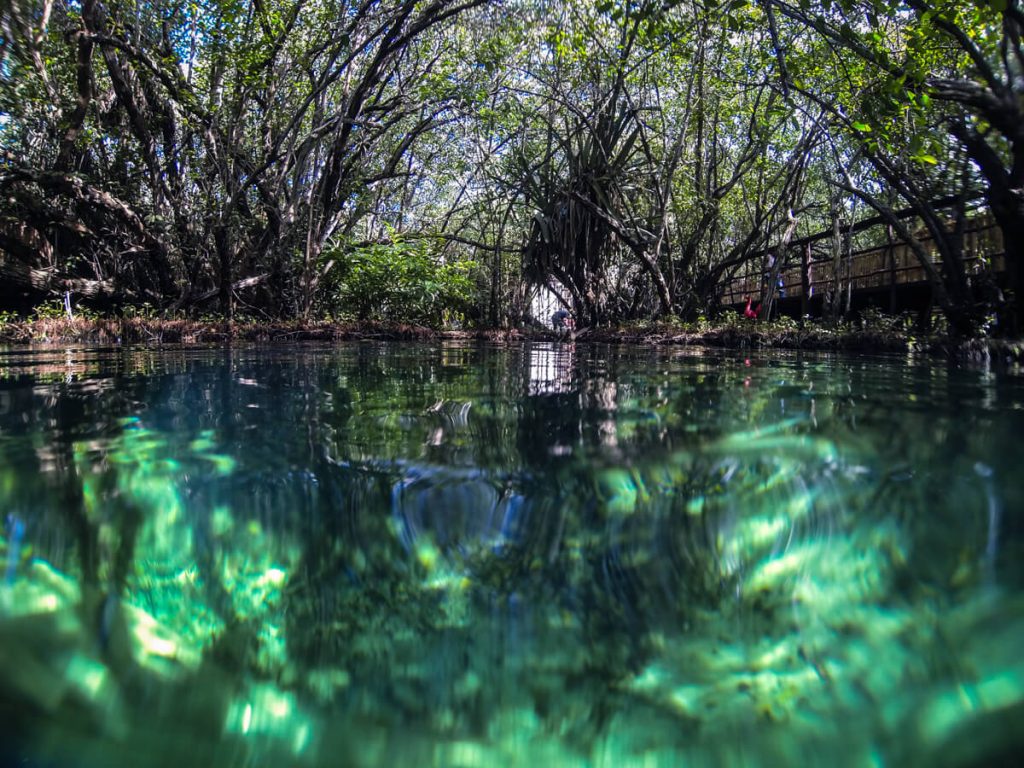 cenote cristal (cenote Naharon)
Cenote Cristal is located about 4 km southwest of Tulum on highway 307. Here you can find crystal clear waters amongst the jungle. Perfect for snorkeling, swimming and cave diving for those qualified. Cenote Cristal has areas for relaxing and a palapa for family picnics.
The cenote is actually connected via an underground cave to Cenote Escondido which is found across the road.
cenote escondido (cenote maya blue)
Sharing an entrance with Cenote Cristal is Cenote Escondido, an impressive 40m in length and fringed with fan palms. Also called Cenote Maya Blue, impressive cliffs of between two- and four-meters surround much of the cenote. This gives it a feeling of true isolation. 
Head for the short stairway that leads down to Cenote Zacil-Ha's cool, jade-colored waters. This is one of the cenotes with all the facilities you need. There are overnight cabanas to rent, restaurants, parking, changing areas and bathrooms. They even have a small zip-line over the cenote and another pool if the cenote waters are too fresh. Great for families.
Best hidden gem cenotes near Tulum
Cenote Nicte-Ha is part of the Dos Ojos Cenote Park which has five different cenotes that are all connected underground. If you aren't diving at the popular Dos Ojos cenote, then check out this hidden gem Cenote Nicte-Ha.

It requires a short walk along a dirt road through the jungle but the end result is well worth it. The cenote is full of delightful lily pads and crystal clear waters. It also has a small area of cavern can be explored without diving gear as the rock overhangs the water. 
Finally, Cenote Yaxmuul – or 'green hill' in Mayan – offers a similar experience. Largely covered by arching buttresses of rock combined with holes providing light to the milky blue waters.
Traditional ceremonies are also performed here by a shamanic priest.
Tulum's Riviera Maya is a region just waiting to be explored. Alongside its Mayan traditions are its famed cenotes.
The cenotes offer visitors an experience and a place to relax in perfect harmony with nature.
Want somebody else to take control while you sit back and enjoy the ride? Book a tour!
Best places to stay in tulum
Looking for the best places to stay in Tulum? First you have to decide if you want to stay in the town or on beachfront! Tulum town is good for budget accommodation, food and staying where the locals are. However, you will need to get taxi's or ride bikes if you want to hit the beach.
Two recommendations with high review scores in Tulum town are Hotel Bardo which is more on the luxurious scale of accommodation and Azura Boutique Hotel which is great value for money and more modest in price. 
The hardest part about staying near the beach, is deciding on which hotel to stay at! If you are thinking you might want to say in a jungle style treehouse Azulik is worth a look. Looking to get the best of both the jungle and the beach? La Valise Tulum would be the choice. Need instagram worthy pics? Check out glam-tropical hotel Coco Tulum. Otherwise stay with the friendliest hotel hosts in the area at Las Palmas Maya.
Check out the hotel map below! 
Keep in mind that we may receive commissions from affiliate partners when you click our links and make purchases. However, this does not impact our reviews and comparisons. We try our best to keep things fair and balanced, in order to help you make the best choice for you.