THE BEST Playa del Carmen Cenotes
The Mexican city of Playa del Carmen lies alongside the sublime waters of the Caribbean Sea in the state of Quintana Roo. Situated in the Yucatan peninsula in the far south of the country, it has become popular with visitors to the region because of its prime location on the Riviera Maya and its spectacular white-sand beaches. The Riviera Maya is an area of Caribbean coast known for its Mayan archaeology, as well as untouched natural wonders – including a series of famous Playa del Carmen cenotes.
The city of Playa del Carmen houses no cenotes close to the center. Visitors wanting to explore the cenotes near Playa del Carmen will have to travel at least 30-minutes out of the city to find them. But trust us, with some of the best cenotes in the Riviera Maya so close, you'll be sure to want to make a day (or two) of it! But which are the best cenotes in Playa del Carmen? Why not pick a couple and do a self-guided tour of all the cenotes you want! Otherwise if you want to sit back and let someone else do the driving check out these awesome tours! Not sure on where to stay? Check out these hotel recommendations.
A QUICK HISTORY OF PLAYA DEL CARMEN
AND THE CENOTES
Playa del Carmen can trace its origins right back to the pre-Columbian civilization of the Mayan people. Known then as Xaman-Ha – or 'the waters of the north' – it established itself as an important stopover on the pilgrimage route that leads to the island of Cozumel ten miles offshore. With the arrival of the Spanish, many Europeans settled in the area, lured no doubt by the astonishing natural beauty of the region.
Like many towns on this part of the Mexican Caribbean coast, Playa del Carmen remained a sleepy out-of-the-way fishing village until relatively recently. Today the city boasts everything a visitor might need, with a range of restaurants, shopping boutiques, and options for entertainment, making it a focal point for the Riviera Maya area.
City life is centered around Quinta Avenida – Playa del Carmen's literal Fifth Avenue – which has been pedestrianized and lies just a couple of blocks from the white sands of its beach. Even so, Playa del Carmen and its surrounds remain dominated by pristine jungle, home to monkeys, sloths and exotic birds, and many more fascinating endemic animals.
The Yucatan peninsula is the only place in the world where you can get up close and personal with cenotes in Playa del Carmen. There are 6,000 Yucatan cenotes in total, and visiting cenotes Playa del Carmen is a must. 
These cenotes in Riviera Maya form naturally over thousands of years as a result of the action of underground freshwater rivers on the soft limestone which comprises most of the region's bedrock. As time goes on, covering layers of rock at ground level collapse, revealing an intriguing collection of open and semi-closed pools in the Mayan jungle. They are used by locals and tourists alike to relax, swim, and dive to explore the extraordinary rock formations.
THE MOST POPULAR PLAYA DEL CARMEN CENOTES
With a short but magical walk through the jungle, past smaller, fish-filled pools, the main pool of Cenote Azul Playa del Carmen often takes the breath away. Often considered one of the best cenotes in Riviera Maya, a wooden walkway divides a shallow pool from the main swimming area which drops down to 26 meters.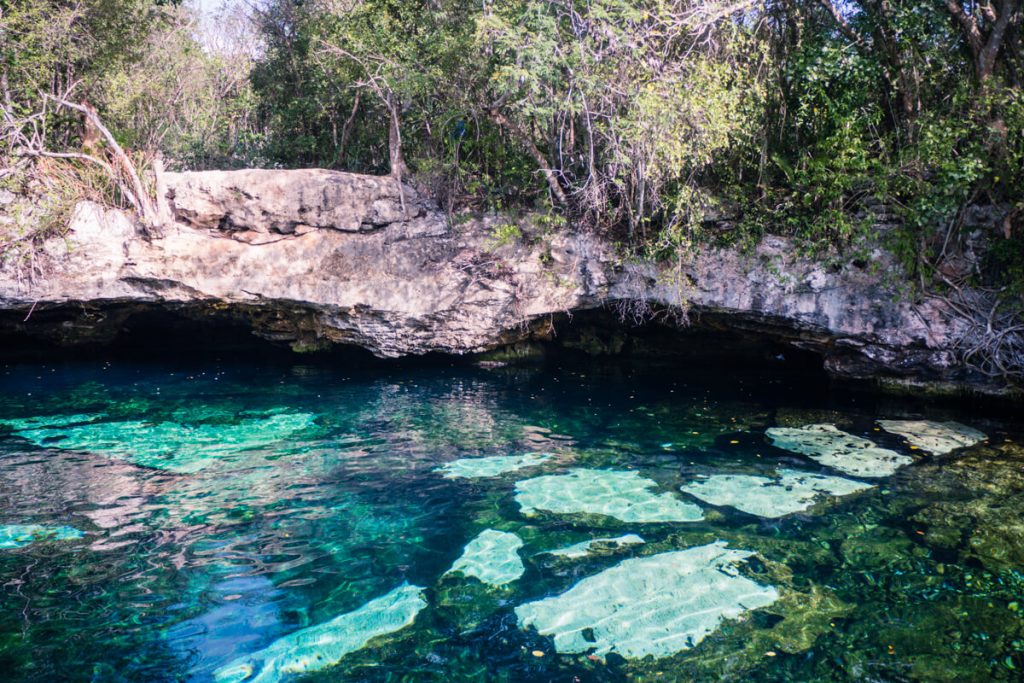 Nearby Yucatan Cenote Azul lies Cenote Cristalino Playa del Carmen. One of the best for families, Cenote Cristalino has toilets, changing rooms, a little snack shop, life jackets, and gear rental. This cenote has an impressive 12-meter cliff jump for adrenaline seekers and a cave that it's possible to explore without needing scuba experience.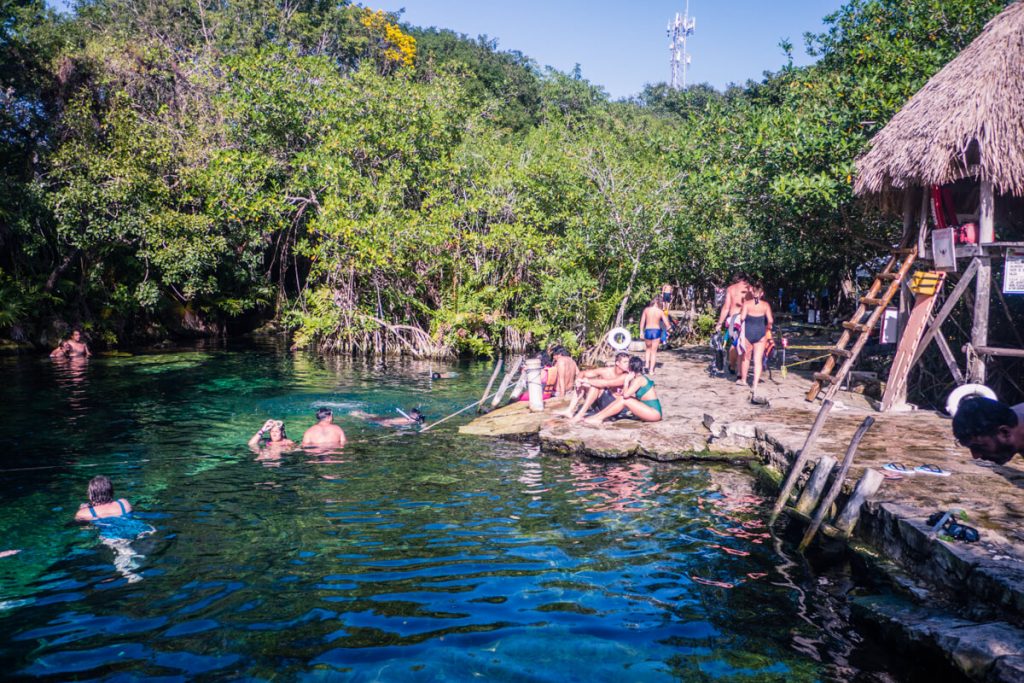 Cenote Jardin del eden (cenote ponderosa)
Situated between Cenotes Azul and Cristalino, Cenote Jardin del Eden Playa del Carmen is aptly named. A gentle walk leads through the jungle for around 10 minutes before you arrive at the sinkhole itself, deep within the bowels of the earth and surrounded on all sides by steep cliffs. The area is scattered with picnic benches, while stairs lead down to the water and some staggering rock formations. The locals also call it Cenote Ponderosa.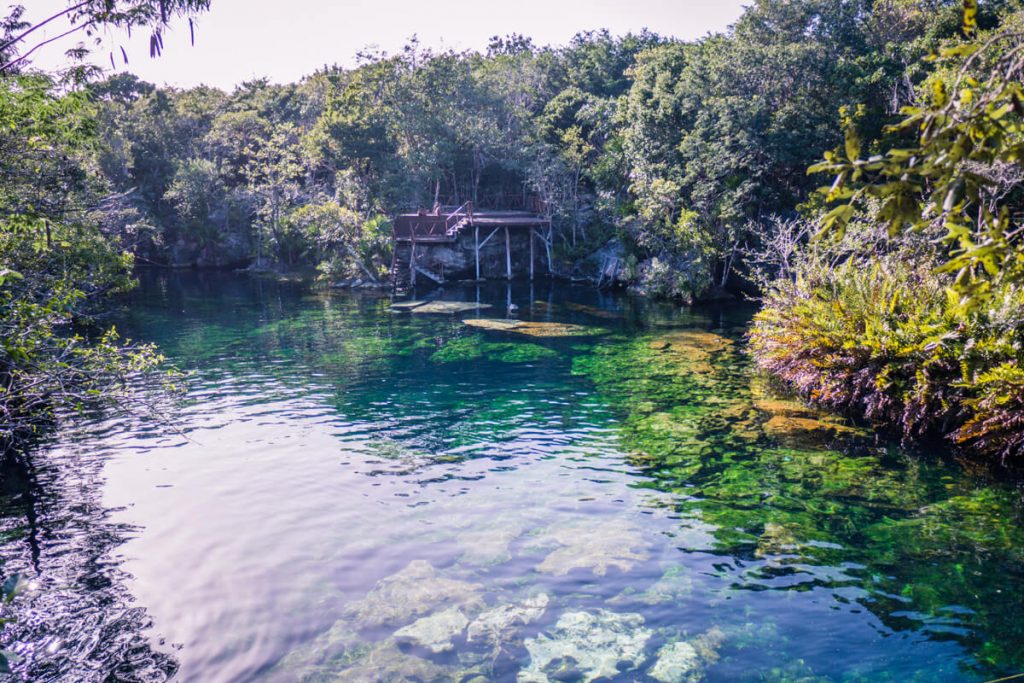 Cenote Chac Mool has two impressive caverns drenched in sunlight and with spectacular jungle views from even below the surface of its waters. Its proximity to Playa del Carmen makes it one of the most popular on the Riviera Maya.
BEST Cenotes for SCUBA divers
Cenote diving Playa del Carmen is a popular pastime for those with the relevant qualifications. Meaning 'western waters' in Mayan, Cenote Chikin Ha is also sometimes known as Half Moon Cenote. Only discovered in 1997, it has a large undercut ceiling rather like a large horizontal gash in the earth. Passages lead some 15 km, but some of the best rock formations can also be seen with a simple snorkel setup.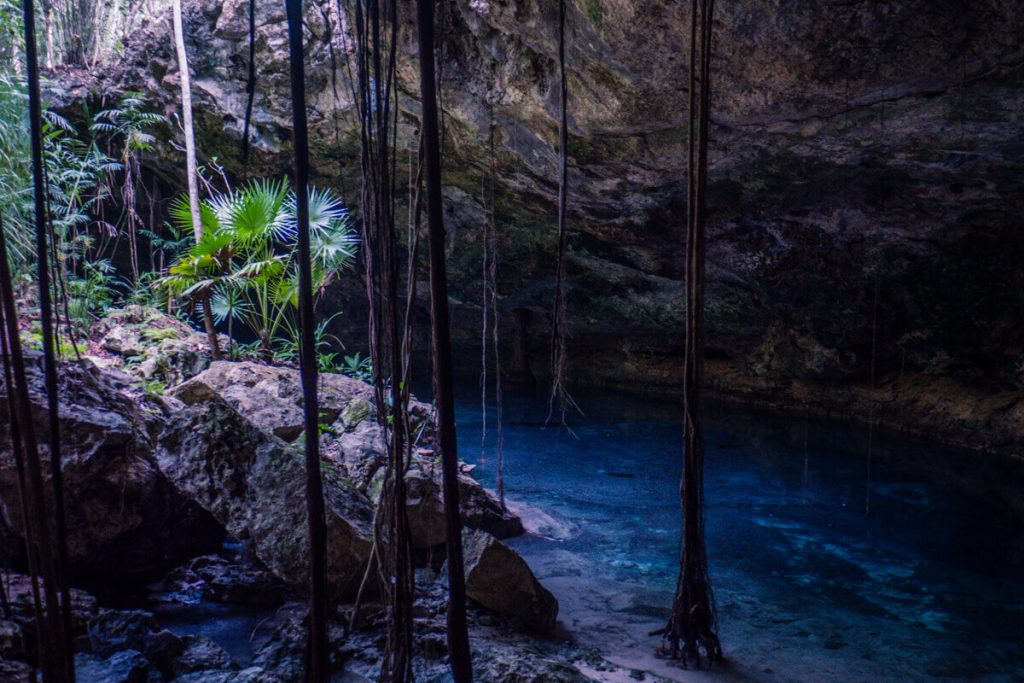 Cenote Taj Ma Ha receives cave divers from around the world and is divided into an intricate series of passageways, caves, and caverns pierced with sunlight. Reaching an impressive 15 meters down, the tunnels host numerous fossils, stalactite, and stalagmite formations.
Nearest cenote to Playa del Carmen
Comprising a large pool of water and three caverns, Cenote Chaak Tun is one of the best cenotes in Yucatan. It has a beautiful collection of stalactites hanging from its roof. In addition to this, Cenote Chaak Tun has great facilities for family trips – you can buy food and rent wetsuits.
Cenote Chaak Tun is only a 16-minute drive outside of Playa del Carmen, so take a taxi or grab a tour!
HOW TO GET TO THE CENOTES NEAR PLAYA DEL CARMEN
The majority of cenotes Riviera Maya we highlight below are within a 30-minute drive of the center of Playa del Carmen, meaning you really don't have to travel far to see the best cenotes near Playa del Carmen. If you have access to a vehicle, the cenotes are clearly marked on maps and road signs. Hotels and resorts are also very happy to organize cenote tours or transport for you, while those on a tighter budget can make use of the shared colectivo taxis that ply the roads around the city from bases on Calle 2 and Avenida 15.
Playa del carmen cenote tour
When visiting the Yucatan peninsula, a cenote tour Playa del Carmen is simply a must-do. Not only are the cenotes in Yucatan unique to this part of the world, but they also offer spectacular settings in which to relax, swim, and spend time with friends and family.
BEST PLACES TO STAY IN PLAYA DEL CARMEN
Getting around Playa del Carmen is very easy, you can basically walk everywhere. If you want to be amongst the action, stay central near Quinta Avenida, or in English "5th Avenue". It's a pedestrian thoroughfare that runs about 4kms through the center of Playa del Carmen parallel to the beach. 'Quinta' as the locals call it, is home to cafes, bars, nightclubs, restaurants, souvenir shops, shopping malls, and hotels.  If you are looking for a Jacuzzi on the balcony the Caribbean Paradise Boutique by GuruHotel is for you. If you want resort vibes but in the heart of town check out Magic Blue Spa Boutique Hotel Adults Only. And if budget is more your thing, Hotel Club Yebo is highly recommended and centrally located. 
If you are wanting beach front but central location, Playa Caribe is where you should look. El Taj Oceanfront and Beachside Condo Hotel have beachfront suites for a reasonable price and high recommendations. 
Playacar is a beach at the southern end of Playa del Carmen. If you want to live the all-inclusive luxurious life here are three of the top resorts: Sandos Playacar All Inclusive, Royal Hideaway Playacar, The Reef Playacar Resort & Spa. 
And you want to take it next level and be treated like a celebrity then check out Secrets Maroma Beach Riviera where Elton John has been spotted. Or if you feel Leonardo DiCaprio is more your style, he has stayed at the Viceroy Riviera Maya. 
Check out the hotel map below! 
Keep in mind that we may receive commissions from affiliate partners when you click our links and make purchases. However, this does not impact our reviews and comparisons. We try our best to keep things fair and balanced, in order to help you make the best choice for you.