THE BEST puerto morelos cenotes
Those looking for Cancun cenotes are most likely going to discover the Puerto Morelos cenotes, as there are no cenotes central to Cancun. Puerto Morelos is the place to go for a quick day trip from Cancun.
Puerto Morelos is an elegant coastal town on the Yucatan peninsula, in the Mexican state of Quintana Roo. The cenotes in Puerto Morelos are famous around Mexico due to their close proximity to both Cancun and Playa del Carmen. Just one accessible road called 'La Ruta de Los Cenotes' (the Cenote Route) houses all of the best Puerto Morelos cenotes.
Making the cenote route an easy day trip from cities nearby and visitors are able to see many different Puerto Morelos cenotes all on the same trip. However, if you are wanting to sit back and let somebody else do the driving? Check out these Puerto Morelos cenote tours below! 
There are also plenty of beautiful accommodation choices in Puerto Morelos if you are deciding to steer clear of the Cancun and Tulum hustle. Click here to get a map overview of the hotels. 
A QUICK HISTORY OF PUERTO MORELOS
First occupied by the indigenous Maya people from the ninth century, they inhabited the area around what is today Puerto Morelos until the coming of the Spanish conquistadors in the fifteenth century. Puerto Morelos takes its name from Jose Maria Morelos, a nineteenth-century leader of the Mexican independence movement. The archaeological remains of the town can be found within the grounds of the Botanic Gardens Alfredo Barrera Marin.
Puerto Morelos' modern life began in the 1920s when it was a village of wooden homes owned by fishermen dotted about a single road. A hurricane in 1967 named Behula tilted the town's short lighthouse to the angle you can find it in today. Although its functions were replaced with a newer, straighter version, the stout square lighthouse with its drunken angle has since become a symbol of the town.
Lapped by the warm waters of the Caribbean Sea in an area known as the Riviera Maya, Puerto Morelos is just 36 km from the resort city of Cancun and its international airport in Mexico's far south. It is now home to roughly 10,000 people. The oldest part of the town, the Antiguo Puerto Morelos, is separated from other parts of the municipality by a series of mangroves and has developed from its origins as a small fishing village into a refined neighborhood of private homes, hotels, and restaurants.
La Ruta de los Cenotes Puerto Morelos
La Ruta de Los Cenotes Puerto Morelos, or the Route of Cenotes, is one of the best areas in the Yucatan in which to experience the magic of cenotes. More than 100 cenotes dot the jungle on either side of the Puerto Morelos Ruta de Cenotes for several kilometers. There are even handy maps on the road into Puerto Morelos detailing their locations, so it's not hard to find a few cenotes you'll love. Here, we highlight some of the most interesting sinkholes you can find along La Ruta de Los Cenotes Riviera Maya.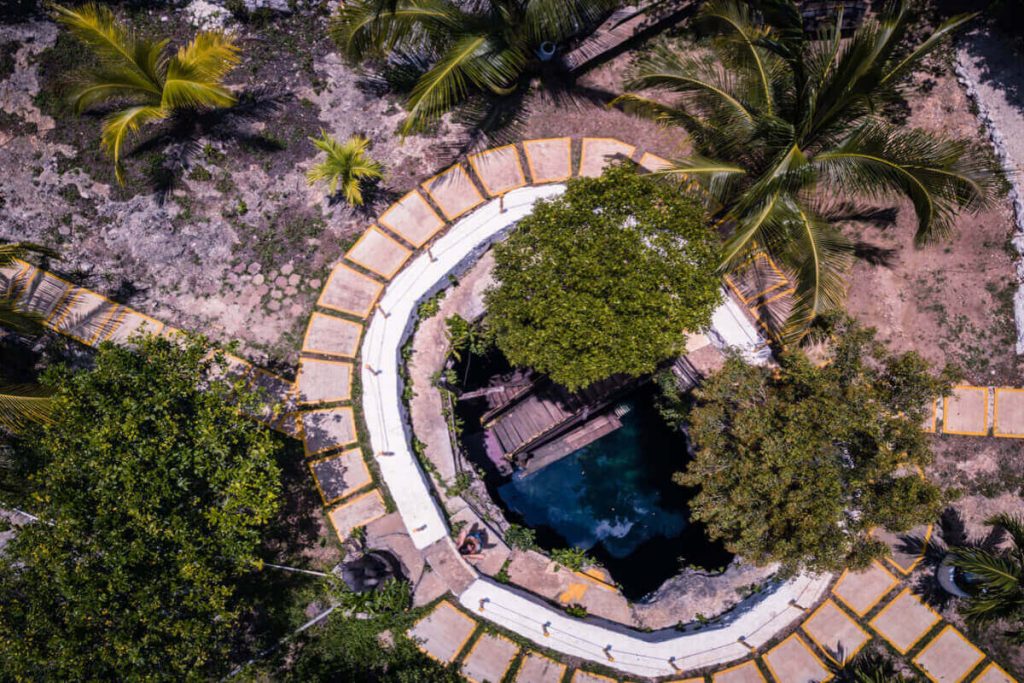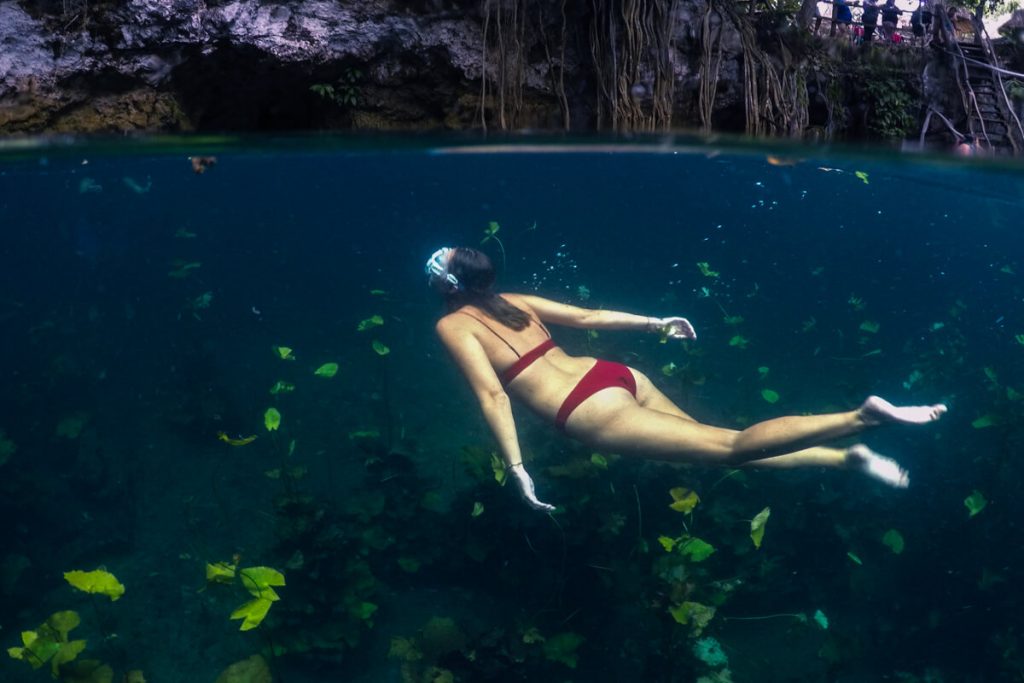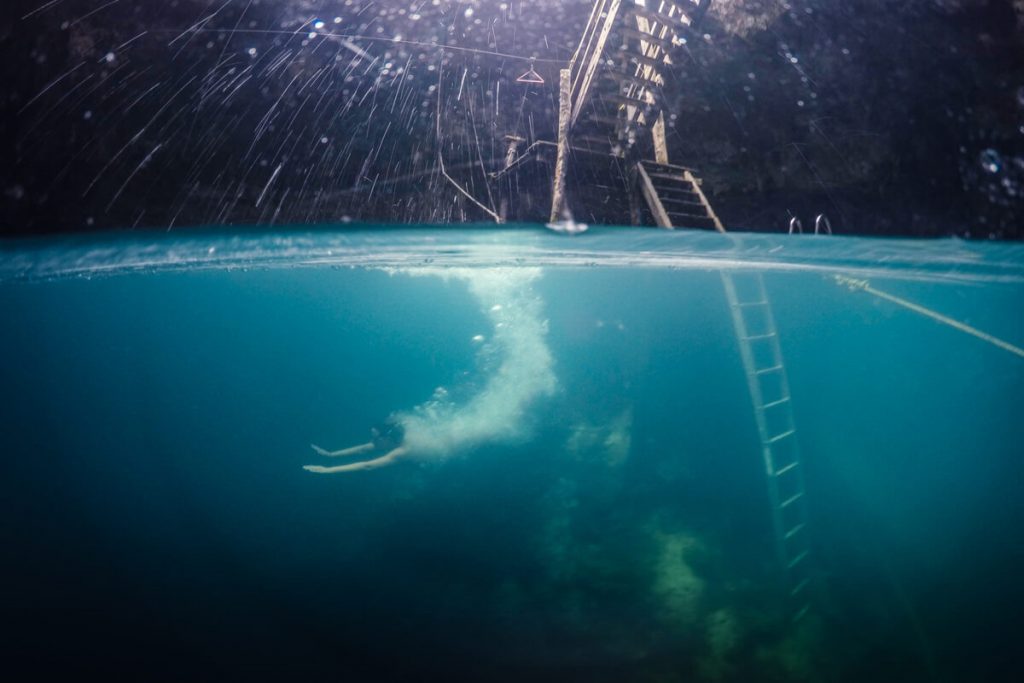 Best PUERTO MORELOS cenotes for swimming
Surrounded by steep walls draped with jungle foliage, Cenote Verde Lucero is reached by a set of stone and wooden steps. The average depth of 10 m makes it suitable for all sorts of adventures, from swimming and snorkeling to jumping too. Snorkel the emerald green waters and discover the underwater garden of lilies.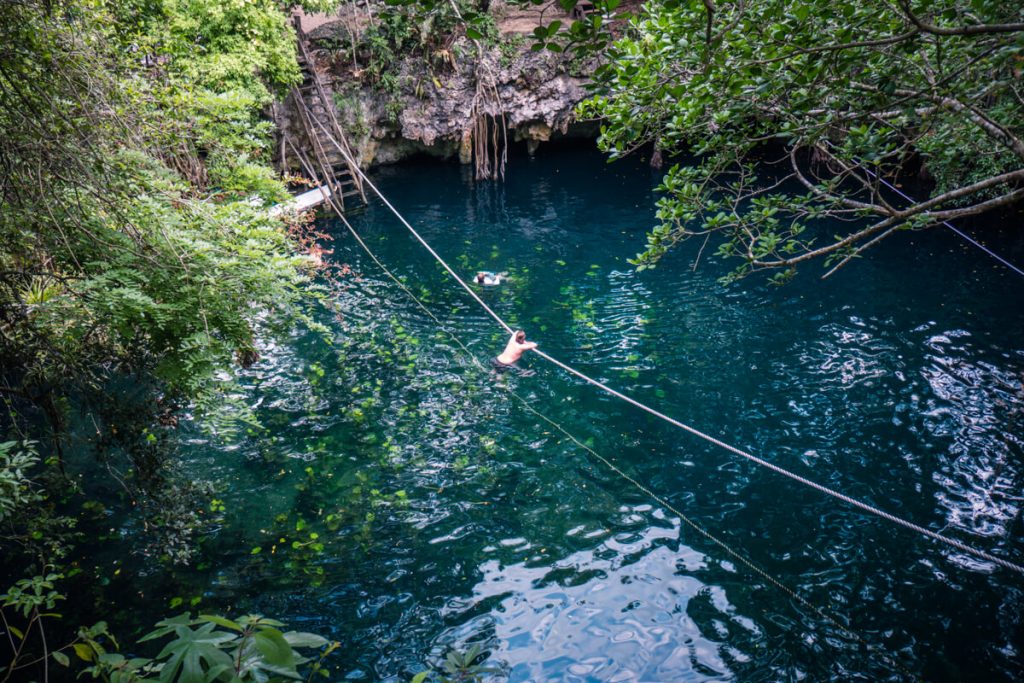 Follow the Ladders that lead down to a wooden platform and you will discover the crystal blue waters of Cenote Kin Ha. Kin Ha is a great example of a cave cenote. A magical place, natural light pierces holes in the rock roof amid staggering rock formations that have developed over millennia. Great for cooling off after a big day in the sun. Bring your snorkel mask to explore and appreciate this place better. 
There are seven different entranceways or mouths that are all part of the one Cenote Siete Bocas. Each of these holes or openings are accessed with stairs or ladders, while there is also plenty of places to jump into the cenote. Bring your swimming costume and a picnic and make a day of it among the jungle scenery.
Best PUERTO MORELOS Cenotes for relaxing
Cenote La Noria was only recently discovered by the landowners who survived a hurricane which revealed an opening to the underground cenote. La Noria has a main opening with a steep wooden staircase leading down onto a platform at water level, complete with zip line and rope swings.

There is another entrance to the same cave which is a bit more adventurous, you can climb down a small hole carved out of the stone and once you reach the cave you can jump in and swim back to the wooden platform in the center of the cenote. Aboveground there are spaces for hammocks and lounge chairs for picnics. They also offer zip lining through jungle and mountain bike tours.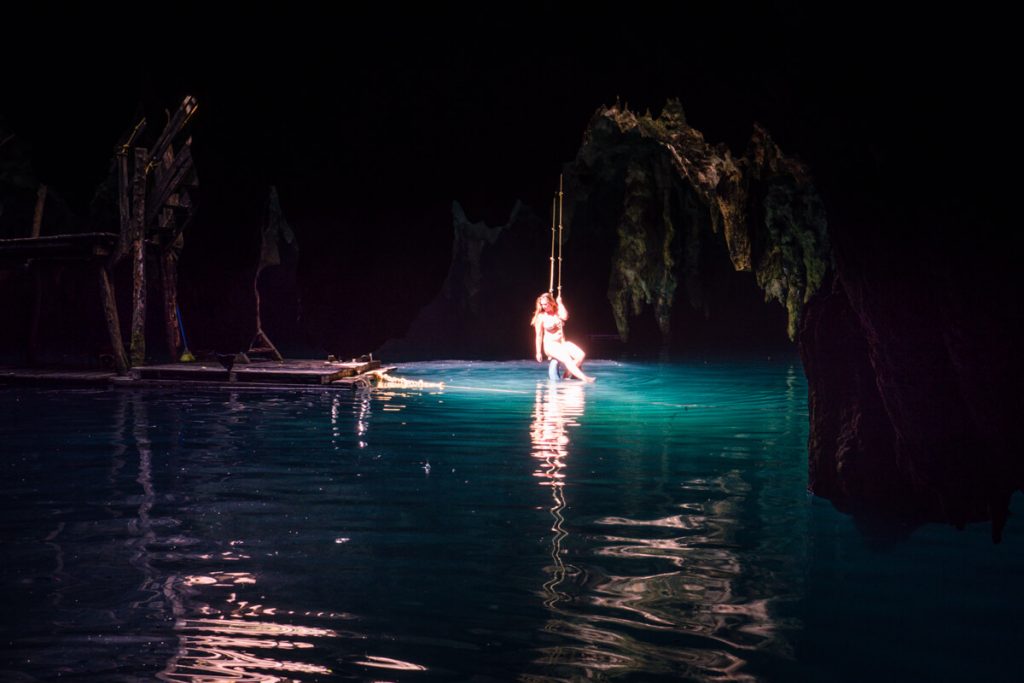 LEAST CROWDED Cenotes in PUERTO MORELOS
Requiring a 1.7 km walk through the jungle, there's no better-hidden gem than cenote Popol Vuh. Found in the heart of the jungle, offering a chance to disconnect from the distractions of everyday life. You won't find a WiFi connection here, and the only electricity comes courtesy of the sun's rays. Here you can find a restaurant, BBQ rental, camp or even stay in their hotel like accommodation. 
The Cenote Las Mojarras is one of the largest, and therefore best cenotes in Riviera Maya for swimming, at 65 meters in diameter. It also reaches a depth of 14 m. Looking uncannily like a human eye from above, it has two zip-lines, and two towers for jumping into the cooling waters.
Lifejackets and locker rooms available, along with picnic areas and parking. If you don't want to swim, the park also offers other activities such as an ATV tour and Horseback riding tours. 
Family-friendly cenotes PUERTO MORELOS
Cenote Zapote is an eco-park which is home to 3 cenotes! Cenote Zapote, Cenote Palmas and Cenote El Abuelo Che Che. If 3 cenotes aren't enough to keep the family entertained how about a bike ride or zip line. What is super interesting about Cenote Zapote is that explorers found the bones of a sloth from the last ice age which was about 10,000 years ago.

This place is also one of the coolest dive sites for advanced divers. Nicknamed 'Hells Bells', Cenote Zapote is home to some unique stalactites that hang from the ceiling in the shape of bells.
The action-packed list of cenotes Riviera Maya tours and activities on offer at the Cenote Boca Del Puma Ecopark, such as zip-lining and riding all-terrain vehicles, means the family will never get bored. What's more, snorkeling kit and life jackets are included in the entrance price.
Unique to the Yucatan peninsula, cenotes are fantastic places to relax and cool off whether you have a day or a week in the region. With a route dedicated to its cenotes, Puerto Morelos is one of the best places in the Riviera Maya region to explore these otherworldly formations.
Check out these awesome jungle tours within the Puerto Morelos Cenote Route!
Haven't booked your accommodation yet?
Check out the map below for resorts, beachfront hotels or treat yourself at one of the Puerto Morelos All Inclusives!
Keep in mind that we may receive commissions from affiliate partners when you click our links and make purchases. However, this does not impact our reviews and comparisons. We try our best to keep things fair and balanced, in order to help you make the best choice for you.